We at USA Guided Tours—home to the #1 experience in the nation according to TripAdvisor—are so excited to bring you the best guided bus tour in Boston! Our DC and NYC customers love how our expert tour guides and seasoned drivers introduce them to the most iconic and important sights both cities have to offer. All this without having to go underground or drive through clogged city streets.
You'll experience the same level of stress-free relaxation on our Boston guided bus tours; sip on our complimentary bottled water and relax in our climate-controlled buses as we show you the best that Beantown and its environs have to offer!
Last month, we took a look at the historic patriotic and artistic sights in Cambridge, Lexington, and Concord that feature on both our "Preview Boston" half-day and "Historic Discovery" full-day tours. This month, we'll take a closer look at the sights in Boston central that you'll see on our full-day tour.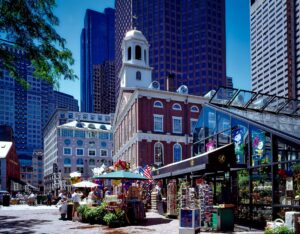 Our "Historic Discovery" tour is ideal if you want to get the low-down on Boston's most famous landmarks in one day, leaving you the rest of your trip to carve out a more personalized itinerary for you and your travel companions. (By the way: if you're planning a group vacation, consider our custom private tours—ideal for family reunions or corporate retreats!)
After visiting Cambridge, Lexington, and Concord in the morning, we start our Boston city center itinerary with lunch at the iconic Faneuil Hall Marketplace – a wonderful blend of colonial and contemporary. Faneuil Hall has seen everything from revolutionary speeches by Sam Adams and Susan B. Anthony to the buskers and street performers who will entertain you as you choose from the over 50 dining options and browse the square's famous pushcarts. Yum!
We then drive you through Beacon Hill, a genteel neighborhood that features beautiful old row houses, bricked streets, and the stately golden dome of the Massachusetts State House. Believe it or not, it's called the new State House, even though it was opened in 1798!
Next comes Boston Harbor and the Waterfront, where colonial Bostonians tossed some tea into the harbor in 1773. Come for the history, stay for the beautiful dockside views as we tell you all about the world-renowned New England Aquarium. Be sure to ask your guide which exhibit is their favorite! Myself, I'm partial to the four-story Giant Ocean Tank, with its technicolor coral and Myrtle the green sea turtle, who's almost 100 years old. Even the critters are historic in Boston!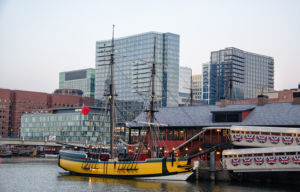 Speaking of old, you'll also see State Street on our tour. John Winthrop and his Puritan brethren built homes on this storied street in the 1630s, back when it was known as King Street. It's also where the Boston Massacre took place in 1770, a pivotal event that proved a lasting rallying cry for the American Revolution. Stare up at the Old State House balcony (est.1713), where colonial governors proclaimed royal acts and the Declaration of Independence was read aloud to Bostonians hungry for freedom in 1776.
Finally, you can't see Boston without a visit to "Old Ironsides," more formally known as the USS Constitution. Voted best local historic sight for families in 2018, the Constitution museum offers wonderful hands-on opportunities to learn how the ship was a pillar of America's fledging navy, as well as the important role it played in the War of 1812. You shouldn't miss the opportunity to see the world's oldest seaworthy naval vessel!
There's so much to see here in Boston, and we can't wait to show it to you. So, what are you waiting for? Book your full- or half-day tour with USA Guided Tours Boston today!
---
Sara Murphy | USA Guided Tours Boston Blog Contributor